SOME THOUGHTS ON SPX AND CONVENTIONEERING
Last weekend I exhibited at the Small Press Expo, one of the premier independent comics shows in North America. Just to give you some background. I was set up with Koyama Press, debuting my new book Diary Comics 4, as well as Small Drawings. Here's a banner ad I did for the show, part of a series of 4 by Koyama artists, the others by Michael Deforge, John Martz, and Julia Wertz.

So first of all, in terms of sales, I not only had my best SPX ever--which is saying something; SPX and TCAF are my two best shows by a wide margin--but I had my best SHOW ever. I did a strong two days worth of sales on Saturday alone; with Sunday's sales it pushed me well past my own personal record, by nearly 25%. And that record was set at HeroesCon, a three-day show in my backyard, where I know everyone and people buy stuff just because it would be weird to talk to me for five minutes and then not buy anything.
This was my fifth consecutive SPX as an exhibitor: 2008 was my first one, set up at the end of Kind Chris Pitzer's table with one over-priced mini. While there are reasons that I do much better now than I did then sales-wise, which I'll get into in another post, most of the credit should go to the show organizers, without whom of course there would be no show, no other exhibitors, and no attendees to buy my books. I used to work on the staff of a big convention (HeroesCon), and I feel pretty entitled to opine on this kind of stuff, so indulge me if you will: here are three things I think really pushed SPX over the top this year.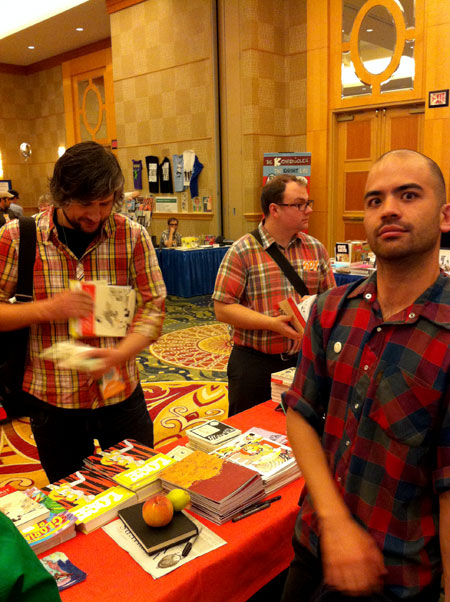 (Tom Kaczynski, Steve Wolfhard, and Michael Deforge)
1) STARS. While it was hard to tell if attendance was up over previous years because of the wider aisles and larger room, I have to assume it was. And while a lot of things can contribute to that, especially advertising and community outreach, for my money the biggest contributor was the "big" guest list, which included Jaime and Gilbert Hernandez, Chris Ware, Dan Clowes, Michael Deforge, and basically a bunch of people worth travelling from other cities for.
The weird thing about SPX is it takes place in ugly Rockville, Maryland--or, to be fair, in the ugly part of it that's masquerading as North Bethesda, and is covered in strip malls, hotels, and occasional exits to larger roadways, and presumably, more interesting places. So the "draw" at SPX, meaning the likely pool of attendees, comes mainly from the DC/Baltimore area and a daytrip-driveable swath surrounding it, say down to Richmond and up to Philadelphia. Maybe a little farther if you lump in commuter trains. Which is nice in its way--the SPX audience is very familiar with itself, there's a homey feel, because a lot of people are the same people who come every year because of this. But it's terrible for growth--with a limited, regional appeal, it's hard to grow past a certain point, because there simply aren't enough PEOPLE available to you.
But for a lot of people, having the chance to meet Chris Ware or hear him talk, or buy an original Jaime sketch, or whatever, is the tipping point between "oh yeah SPX I've heard of it, one of these days maybe I'll try that out, where is it again?" and actually booking a plane ticket. And I think that's definitely what happened this year. I not only had an almost constant 2-3+ people in front of my table, they were often people who I'd never seen before, who'd never bought anything from me. And like I say, this was my 5th SPX, and anyone who's tabled next to me knows I talk to everyone who gets within 6 feet of making eye contact with me.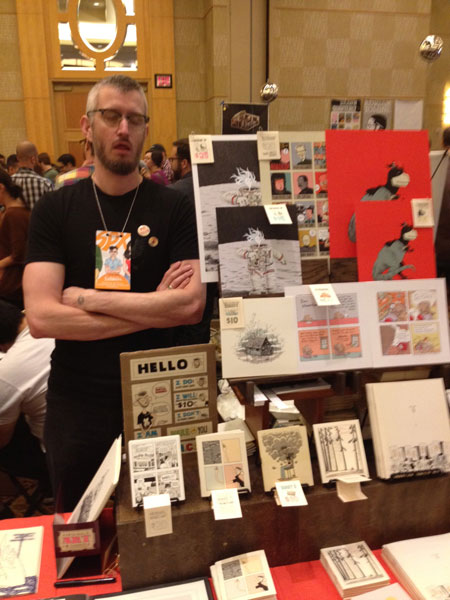 (photo by Eric Reynolds, from his photo report on the Fantagraphics blog)
2) SPACE. I'm told they increased the room by about 30%, which initially I thought was going to be filled with extra tables/exhibitors--and SPX could certainly sell them, I think the show sells out about 20 seconds after tables become available. Although SPX has always taken a weird pride in NOT expanding, in NOT selling additional tables, which has always confused me. There is definitely an algorithm at comics shows for number-of-exhibitors (n) divided by potential-attendees (p)--or to put it simply: more exhibitors means less potential money for each--but expanding is only something to be afraid of if you're NOT increasing attendance every year. Glorifying the idea of NOT expanding is fine philosophically; it's great to show loyalty and an interest in the value of the experience people have gotten used to, but on some level it's also glorifying a certain kind of mediocrity, "this is as good as it's going to get, but isn't it great?", etc.
I'm getting off the subject. Anyway, I'd always been a little let down by this, so I was happy to hear they were expanding. But I think they only added a few actual tables, maybe an increase of 10-15%? The rest of the increased space they used to create wider aisles. "SCOFF," I said, thinking they were still in protectionist mode. But I was dead wrong. The wider aisles were a dream, not only (presumably, I almost never leave my table) for people walking around, wanting to not feel like cattle herded into a slaughterhouse, but for simply STANDING. People seemed to have the room to just stand in front of tables, checking stuff out, instead of being mashed up against the table edge, unable to relax, with more people behind wanting to get where they were. I regularly would notice people a few feet away, just sort of sizing my stuff up for 10 minutes or so, and then they'd come up and buy a print or something. It's hard to quantify what percentage of my total sales that might have represented, but it certainly didn't hurt. And I'm sure it contributed to an overall relaxed vibe in the room, instead of the normal bleating and mooing that goes on outside the slaughterhouse.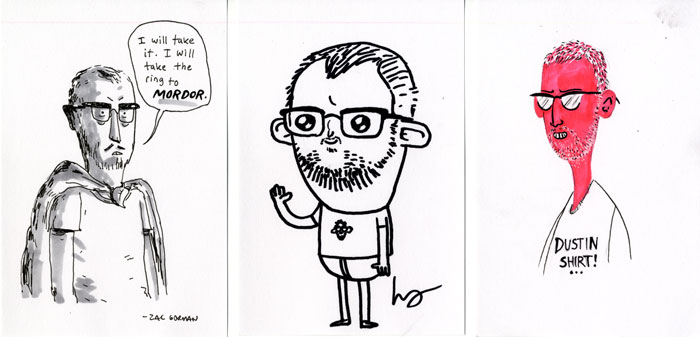 (my friend Rico Renzi missed SPX for the first time in forever, so he asked me to get drawings from Olly Moss and Mike Mitchell, who were right across the aisle from me, but unfortunately they (and Zac Gorman) just drew me, so unfortunately Rico won't be getting those)
3) HOSPITALITY. This one isn't sales-related, at least not directly, but I'd be remiss in not mentioning it. I feel like one place SPX has really improved is in the level of hospitality they show their guests, exhibitors, AND attendees. Which is not to say they weren't hospitable a few years ago--but it seemed less like a priority. To be fair, SPX is a totally volunteer-driven show, so things like hospitality are, sometimes necessarily, easy to skip in favor of more pressing structural concerns. Maybe the people who run the show have just gotten so good at what they do that they have the time to focus more on that? I don't know.
Regardless, you couldn't turn around without bumping into Warren Bernard flitting around like a little hummingbird, chatting with people, graciously accepting their congratulations, etc. At the meet-and-greets and post-Ignatz parties and probably elsewhere, there were always staff members circulating, pressing drink tickets into people's hands, thanking them for coming. I know that Kevin Panetta, the show's Assistant Director, was extraordinarily available to me MONTHS prior to the show, assisting with all manner of help and favors in getting Koyama Press to their first ever SPX, not to mention just helping me personally over and over again with favors, questions, more favors, more questions, etc. I feel like around a third of my huge sales at SPX can be attributed to Kevin going way out of his way to welcome Koyama and answer my one million fussy emails, always patiently, and usually in the affirmative.
Hospitality is so easy to forget--most of us go to shows either as exhibitors or fans or both, and are mainly just buying stuff or selling stuff or meeting people. When show organizers display simple hospitality--greetings and welcomes and simple help and so forth--it makes people feel welcome, yes. But the really great shows, specifically in my mind TCAF and HeroesCon, take hospitality to the next level, going way WAY out of their way to not only make people feel welcome, but to work to improve their sales, to ease shipping, smooth over bumps, and just generally be at the service of their guests. The last couple of years I think SPX has moved into this zone, which is remarkable because NO ONE GETS PAID. I've made no secret of my lack of respect for the volunteer-driven show model--I believe good work should be compensated, and that compensation creates responsiblity and attention to quality and detail. But, bizarrely, SPX has turned into one of the most hospitable, well-run, lucrative comics shows in North America. So clearly I don't know what I'm talking about.
To sum up, SPX was great, my most lucrative show ever, and one of the most fun--nearly TCAF level fun, which for me is the gold standard of "destination" shows. Many thanks to Warren Bernard, Kevin Panetta, Eden Miller, and all the volunteers for working hard to make this the best SPX yet. And double especial thanks to Annie Koyama, who I spent a very pleasant weekend with, in the company of an extraordinarily high octane roster of artists: Patrick Kyle, Robin Nishio, Michael Deforge, Julia Wertz, Nate Bulmer, Aaron Costain, John Martz, Steve Wolfhard, Zach Worton.. wow. What a great weekend.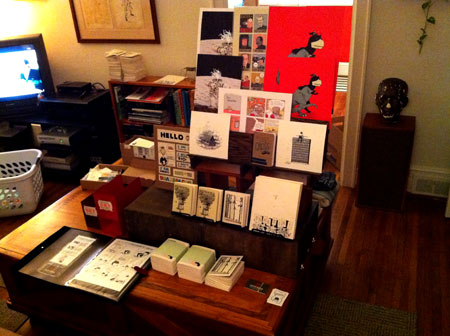 (my practice setup--it takes me so long to figure out how to fit everything in just right, in a way that makes sense, that now I do it at home and take a picture so it doesn't take me until Sunday to get my table ready for Saturday)